COCOCLOMI Massage offers Massage Gift Cards!
It is hard to find time to relax your body and mind, even if you know you need it.
So, why don't you give your loved ones a gift card that can be used at COCOLOMI Massage Shop as a token of your appreciation?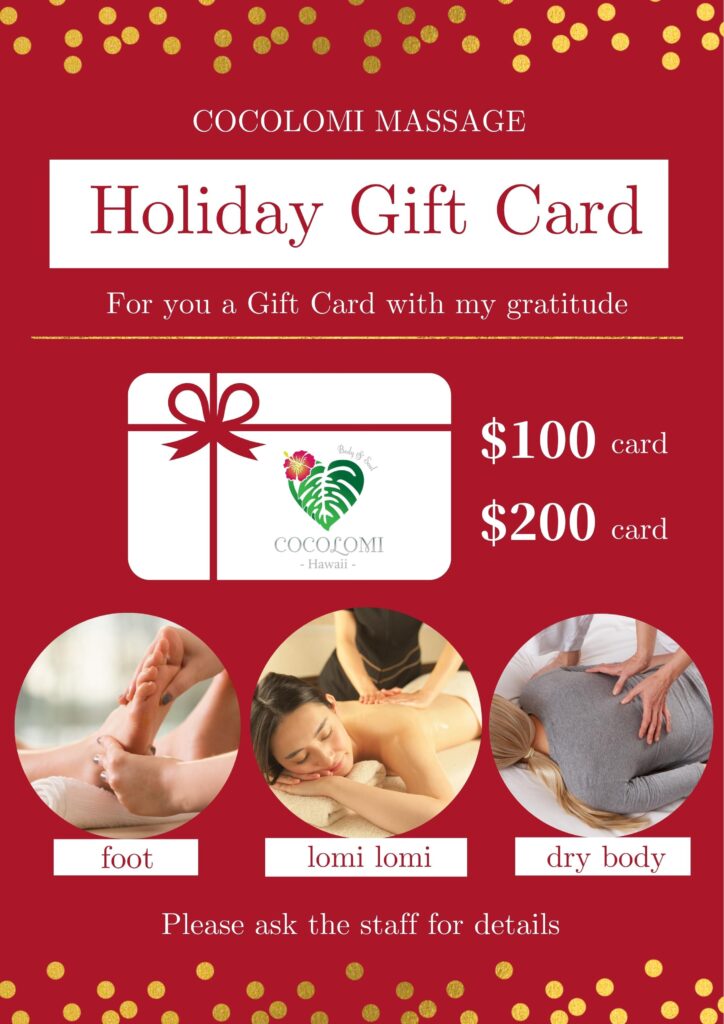 If you're still thinking of a gift for your loved ones to close out the year, we'd love to hear from you!
Please use it as a gift for various occasions such as "Thank you," "Good job," "Congratulations," etc.
Massages available with the COCOLOMI Gift Card are
Hawaiian Lomi Lomi Massage, Fir Massage, Foot Massage, Special Combo Massage, etc. You can choose and enjoy your favorite massage menu.
Please click here to see the COCOLOMI Massage Menu.
There are two types of gift cards: paper type gift cards and electronic tickets (e-gift) that can be easily sent.
Please choose according to the recipient and the occasion.
【Paper type gift card】
Paper Gift Cards can be purchased at Cocolomi massage stores.
■Price
$100/$200/$500/$1000
■How to purchase
Please purchase at COCOLOMI Massage store.

【Online purchase e-gift】
For those who would like to give a gift easily by e-mail or SNS (LINE, Twitter), we recommend electronic tickets (e-gift). A message can be attached to the ticket.
■Price
$100/$200/$500/$1000
■How to purchase
Please purchase from the dedicated website. You can purchase by credit card.
■Please note
No refunds will be made after purchase.
*This coupon can only be used for treatment services at the store.
Coupons cannot be used in conjunction with other coupons.
Coupons cannot be exchanged for cash and change will not be refunded.
We hope you will take advantage of this opportunity. We look forward to seeing you at our store.
We look forward to your visit!